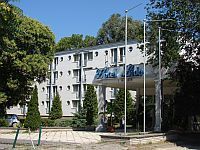 ✔️ Hotel Lido Budapest
1035 Budapest, Római part,Nánási út 67.
Phone: 00-36-1-2279614
Hotel video
Hotel Lido*** Budapest is situated in the romantic green belt area of Budapest, on the Danube shore, at the urban train station Romai Fürdö (Roman Bath). The three-star Hotel Lido Budapest located near the ruins of the roman city Aquincum can be easily reached from the downtown of Budapest by car and by public transport. The hotel offers 57 non-smoking rooms and various sporting opportunities in the Lido Tennis, Bowling and Fitness Club. The conference room of Hotel Lido can host 350 people and can be separated into several smaller section rooms which are perfect places for weddings, conferences, family celebrations and company events as well.