✔️ Hotel Happy Apartments Budapest ***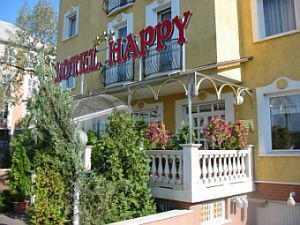 Hotel HAPPY Apartments Budapest ***
The 3-star Hotel HAPPY *** is situated about 3-4 kms from the downtown of Budapest, 5 minutes from the underground station Népstadion, 200 metres from the newly constructed Budapest Sport Arena, and 1 km from the territory of Budapest International Fair.
The new 6-storey building, which has top-level execution, has been receiving its guests since July 2003. The building is equipped with elevator.
Hotel HAPPY with its 20 different-sized apartments - from 35 m² up to 80 m² - can accommodate 100 persons.
The apartments with larger ground floor, having 2 independent sleeping rooms and a large living room, provide ideal rest for families or for businessmen and diplomats who are spending a longer term in Budapest.
The smaller ones have one sleeping room (3 with a double bed + extra bed, 6 with separated beds + extra bed and 1 with separated beds without extra bed).
Each apartment has top-level and practical furnishment, air conditioning, colour TV and telephone. The kitchens are well-equipped. The bathrooms have shower and bath tube.
Our guests can use the kitchen for a small charge.
Our special hall with its character of a cafeteria serves for having the breakfast.
There is a non-stop reception service and drink bar in Hotel HAPPY, where our colleagues, speaking several foreign languages, are pleased to help our guests.
There are parking places in front of the hotel and we have an underground garage where our guests can find safe place for their cars.
Be our guest! You are always welcome in Hotel HAPPY***!
Other apartments in Budapest operated by the management: